MRC-LMB Crystallisation Facility:
plates developed at MRC
In collaboration with SWISSCI we have designed crystallisation plates for nano to microlitre sitting drop vapour diffusion crystallisation experiments and batch (under oil) crystallisation experiments. The new designs incorporate a number of improvements over other plates that we identified while using our high-throughput facility as described here. We now use these plates exclusively for screening and a lot for optimisation, removing the need for plate format changes that often require re-optimisation. The plates are commercially available from Innovadyne, Hampton, MDL, Jena and are manufactured by SWISSCI.
Three plates have been released so far:
original MRC crystallisation plate (low-volume design for screening)
MRC MAXI crystallisation plate (large-volume for optimisation)
MRC Under Oil (µ-batch)
A poster describing all the plate developments with Swissci can be found here (9/2010)
The original MRC Crystallisation Plate:
easy crystal retrieval
Raised wide wells make the crystal mounting especially easy.
easy viewing
The wells are wide conical and have a lens effect for perfect illumination.
The micro-numbering ensures you will never get lost again.
The optically superior polymer is even UV transmissible!
better sealing
Wide partition walls between the wells give plenty of area for good sealing with tape.
wide range of volumes
Typical volumes are 50-100 µl of reservoir and 10nl-5µl drop size.
SBS standard
The plates are designed to the 96-well SBS standard for all common holders.
The MRC MAXI Crystallisation Plate:
| | |
| --- | --- |
| automation friendly | compatible with TTP Labtech Mosquito and Caliper i1000 as well as all 8-tip robots |
| easy crystal retrieval | Raised wide conical wells make the crystal mounting especially easy. |
| 48 wells | ideal for optimisation, 8 x 6 |
| large dops sizes | drops up to 10 µl. |
| better sealing | Wide partition walls between the wells give plenty of area for good sealing with tape. |
| same plastics as original MRC | UVP or PS. |
| SBS standard | The plates are designed to the SBS standard for all common holders. |
The MRC Under Oil Crystallisation Plate:
| | |
| --- | --- |
| no oil spreading | 20 µl wells for oil |
| two experiments in one | batch experiment when sealed with tape when seal is removed, the drops shrink |
| better viewing and retrieval | wide wells |
| numbered wells | the MRC plate advantage |
| SBS standard | The plates are designed to the 96-well SBS standard for all common holders. |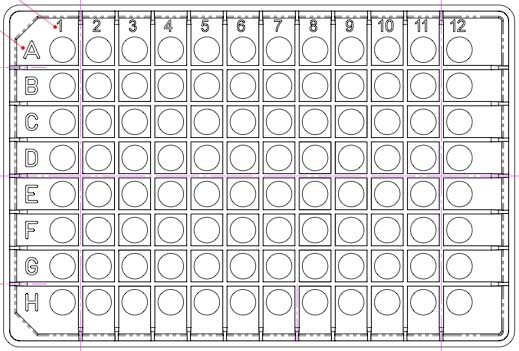 Last Updated 2/12/15