Microscopes4Schools School Visits
Microscopes4Schools is a hands-on science outreach activity for primary school children organised and run by volunteer scientists from the MRC Laboratory of Molecular Biology.
In each Microscopes4Schools school visit, children first listen to a short interactive talk about cells and microscopy, followed by a practical hands-on session where they use high quality educational microscopes to look at different biological samples such as banana cells, mouth cheek cells, yogurt bacteria, living water fleas amongst others.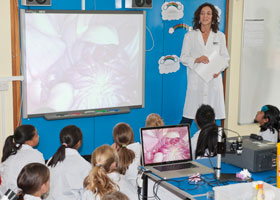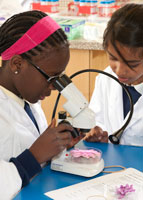 The aims of Microscope4Schools are:
to enthuse children about science, and in particular cell biology, by giving them the opportunity to use microscopes to look at different types of cells and microorganisms;
to encourage teachers to perform similar activities in the classroom, by providing them with information on cell biology and microscopy.
Few children will have access to microscopes until sixth form, and some will never use one throughout their entire lives. Seeing the microscopic world is a great way of creating a long lasting interest in science; it sparks children's curiosity and it turns the abstract knowledge from books into something tangible, exciting and fun. This outreach activity provides a great experience for the children and a unique opportunity for the teachers to learn new ways of inspiring their students about science.
To book a school visit please contact us.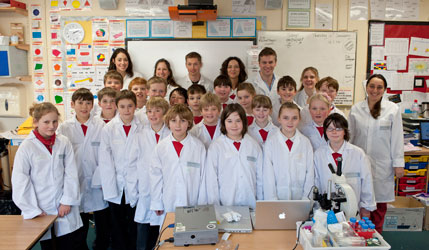 Quotes from the pupils:
"We really loved the experiments and all the facts about cells."
"The best thing was [...] how you made science a lot of fun to enjoy. Thank you so much"
"I enjoyed using and learning about microscopes and also wearing a lab coat made me feel like a professional scientist!"
"I have learnt all sort of things [...]. One day I will be a scientist."
"It was so amazing I had never looked through a microscope."
"I learnt how we are made of cells and why we have so many."
"Thank you MRC for a fantastic day. I have never used a microscope before and I learnt a lot and I will remember the day for the rest of my life."